Kalakhand Tour
Duration: 3 Night / 4 Days
Overview
The package 'call of the wild' will take you through some of the most scenic and lesser explored area of corbett national park and also gives you an opportunity to stay inside the national park and feel the soul of the forest. The package allows you to stay for 2 nights inside corbett at kalakhand forest lodge, where you explore undisturbed wildlife and 1 night in resort on the periphery of corbett national park, where you can do a jeep safari in corbett national park. In short with this package you get an all-round experience of corbett national park.
About Kalakhand Forest Lodge
Corbett National Park is full of wonders, One of such wonder is Cliffs of Kalakhand. Sprawling in area of 180 acre, Cliff of Kalakhand is largest Forest Lodge nestling deep inside Corbett National Park. This place is perfect for those who wish to get away from chaos of urban life and recharge themselves with the goodness of pristine forest. Its periphery is covered with huge tracts of thick forest which assures you always get refreshing air and variety of wildlife at your door step. From the patios of this forest lodge one can enjoy unparalleled view of gurgling Ramganga river. In Winters, the picturesque view of dangling mist over the river creates a heavenly view. As the sun rays start striking the mist,a more enthralling view of the valley starts emerging. For leisure travelers and wildlife enthusiasts. this is a perfect place to relax and spot undisturbed wildlife.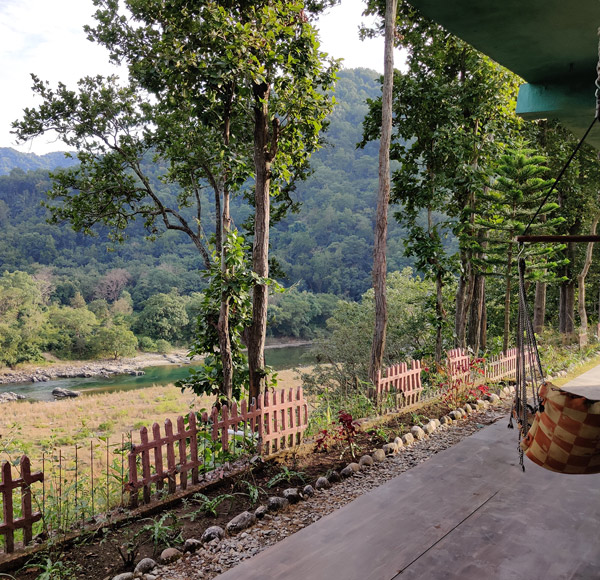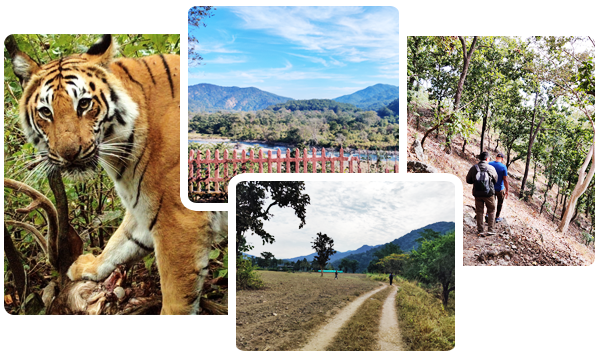 Features
Stay inside Corbett national park
Opportunity to experience an up close view of wildlife
Enjoy a spectacular view of Ramganga river and Valley
Animal tracking with expert Naturalist
Feel the silence of a pristine forest often broken by the sounds of jungle
Guided bird watching walks
Perfect area for bird watching with lot of rivers flowing in the forest
Experience the Mammal Hide to spot animal
Private campfires in the evenings
Delicious Home style cooked meals
Package Highlights
2 Nights stay at Kalakhand Forest Lodge. A private game reserve in the heart of Corbett on the bank of Ramganga river.
2 Forest Drives while entering and exiting from kalakhand.
Usage of Mammal hide once during the stay.
Walking safari at kalakhand with naturalist.
Private campfires with naturalist at kalakhand.
1 Night stay in Resort on the periphery of Corbett National park.
1 Jeep safari in Corbett National park while stay at Resort.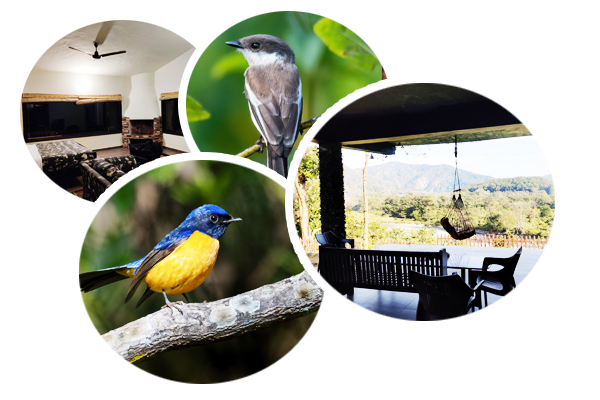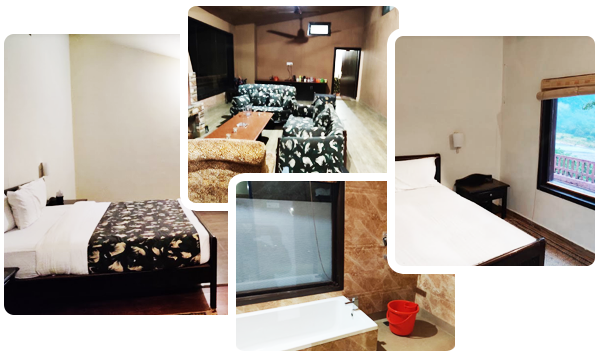 Accomodation at Kalakhand
Five beautifully appointed rooms offering stunning view of nature are relaxing on the hammock in the veranda outside your room in the middle of the core forest, this place offers a great chance to be up close with the wildlife. Rooms are powered by solar panels in our effort to leave behind minimal carbon footprints, however there is power back up available in case of any emergency.
In order to provide you with pure, undiluted forest experience and to minimize disturbance to the wildlife, loud music however you will find room to be clean, comfortable with all basic amenities like clean linen, comfortable mattress, 24x7 hot/cold water in attached bath.
Itinerary
Day 01:
Starting point for this marvellous experience is Riverside Resort by Aahma, where you have to arrive and your vehicle will be parked. From here you will board our exclusive 4x4 vehicle , next 18 kms journey in this vehicle will offer spectacular views of forest & river. After a short walk and river crossing finally you will reach at Cliff of Kalakhand .
On arrival get fresh with commanding view of Ramganga river. Check in rooms. Have lunch. Post lunch an interaction with Naturalist will provide you information for wildlife present in that area. Take a guided nature walk to better feel the location of your stay. Take a orientation of estate and its surrounding. Here trumpets of elephants and tiger call are quite frequent so do not get surprised when you hear those alarm calls , elephant trumpets while relaxing in lodge, having meals or taking a walk.
After lunch go for animal trail identification which involves developing some natural padding, identification of birds and animals by their sound and sight.
In evening enjoy the sound of birds. If you are lucky you may come across to sight of elephants crossing Ramganga river. During camp fire enjoy Dinner and overnight at lodge.
Day 02:
In morning enjoy the stunning view of Ramganga. Take a guided walk in fields. Followed by breakfast. After breakfast check padding results which will help in identification of animal trails. If you are lucky you may get of rarest species of birds and mammals here. Between breakfast to lunch enjoy the commanding view of Ramganaga valley , Sound of Gurgling Ramganga river, amazing view of forest and sound of thousands of birds. Post lunch you have opportunity to witness wildlife up close from Mammal Hide. In evening come back to forest lodge. In evening enjoy campfire. Dinner and overnight at Cliff of Kalakhand.
Day 03:
Get up early morning, take a guided nature walk of estate. After breakfast board jeep and proceed for Riverside Resort by Aahama/Corbett Machaan Resort.
Relax in the serene ambience of the resort & have your lunch. Rest of the day at leisure. Post lunch one can go for a nature walk in the surrounding areas. Dinner & overnight at resort.
Day 04:
Wake up early & gear up for an adventurous wildlife jeep safari inside Corbett Park. Board your gypsy to enjoy 3hrs thrilling 4x4 ride inside the forest. Back to the resort & have a delicious breakfast.
Freshen up and check out of resort for your onward journey with sweet memories of your tour.
| S.No. | No Of Person | Kalakhand + Corbett Machaan Resort | Kalakhand + Riverside By Aahma |
| --- | --- | --- | --- |
| 1 | 2 Pax | Rs 18000/- | Rs 20000/- |
| 2 | 3-4 Pax | Rs 16000/- | Rs 18000/- |
| 3 | 4 & above | Rs 15000/- | Rs 17000/- |
| 4 | Child 6-12 yrs | Rs 6000/- | Rs 7000/- |
Per person charge
*5% GST additional on the above mentioned packages
**Single sharing supplement - Rs 7500 Per Room
Book Now